Fantasy World Cup 2022 : Group H Summary
4 min read
🚨World Cup Group H Summary 🚨
📊 Predicted Group Finish:
1️⃣ Portugal 🇵🇹 
2️⃣ Uruguay 🇺🇾 
3️⃣ Ghana 🇬🇭 
4️⃣ South Korea 🇰🇷 
✍️ Team By Team Thoughts & Info:
1️⃣ Portugal 🇵🇹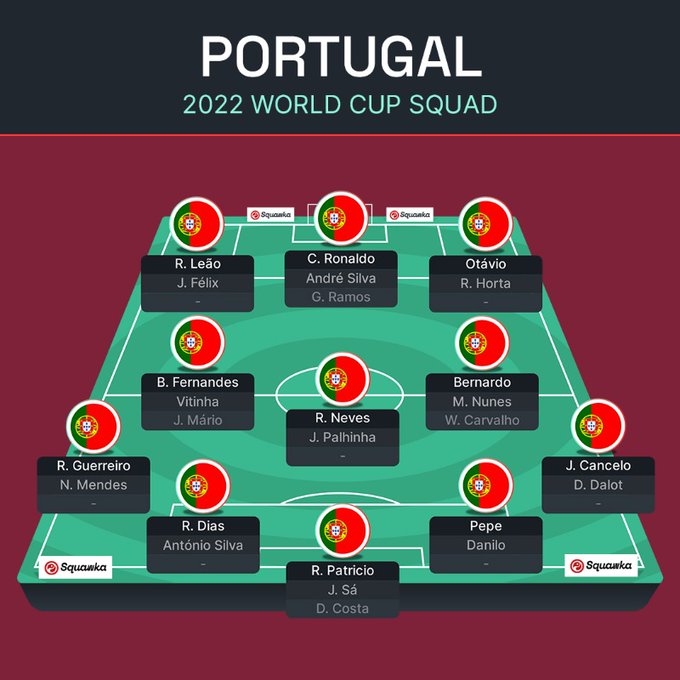 🇵🇹 Portugal are managed by Fernando Santos 
🇵🇹 Diogo Costa ($5m) should be in goals 🥅 – UCL Fantasy Fans will know him well as he's delivered some mega hauls and has a good record of penalty saves 🧤
🇵🇹 Man City's Joao Cancelo ($6m) has the chance to shine on the biggest stage of all now and I suspect he will. He's scored twice and assisted once in his last 5️⃣ Portugal starts. Dias ($5.5m) and Pepe ($5m) should play centre back.
🇵🇹 Bruno F will be in midfield and costs $9.5m. Man City's Bernardo Silva will play and costs $9m. Wolves' Neves ($7.5m) and Mourinho ($7m) provide extra quality in midfield.
🇵🇹 CR7 costs $10m and will love the limelight 💡 of what will presumably be his last World Cup 🏆. He's certainly going to want to be in the shop window 🪟 after his Piers Morgan interview 🎙‼️Joao Felix will hope this fulfil his potential on the world's 🌍 biggest stage. 
🖊 On Pens…CR7 ($10m) then Bruno Fernandes ($9.5m)
🎲 Odds to win the 🌎🏆 = 14/1
2️⃣ Uruguay 🇺🇾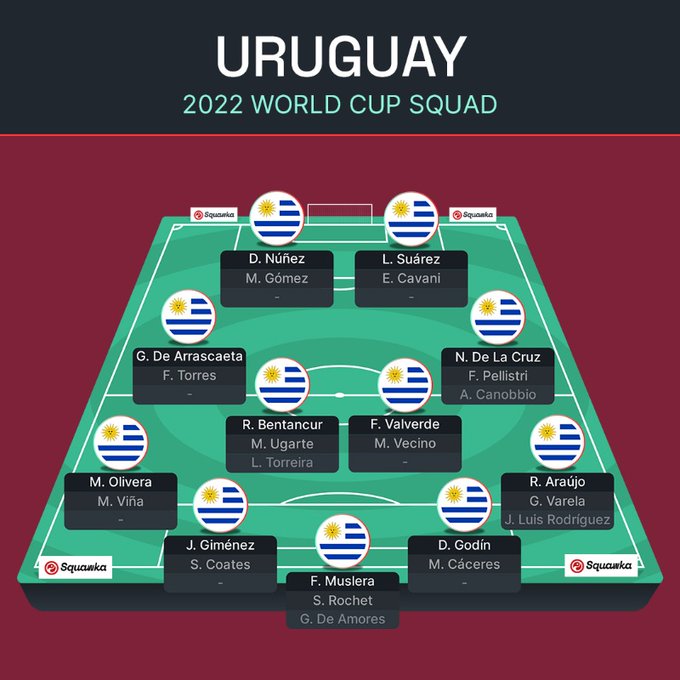 🇺🇾 Uruguay are managed by Diego Alonso.
🇺🇾 Come into the tournament in good form having won each of their final 4 qualifiers scoring 8 goals and conceding just 1️⃣.
🇺🇾 It's not 100% clear to me who will start in goals but I believe that it could be Rochet ($4m) ahead of the experienced Muslera ($5m)
🇺🇾 Stalwart Diego Godin costs just $4m. Barca's Ronald Araujo ($3.5m) would normally be nailed 🔨 but as he's only recently back from a serious injury he may not be risked in the group games. He has though made the squad. 
🇺🇾 In midfield the big star ⭐️ is Federico Valverde ($8.5m) who is a quality player as is Spurs' Bentancur ($6m). Note with Valverde…he has only scored 2️⃣ goals for Uruguay so it's a big price to pay for that output. 
🇺🇾 Just look 👀 at that talent up front‼️ Darwin Nunez ($8m), Luis Suarez ($7.5m), Edison Cavani ($7.5m) and Facundo Pellistri ($6.5m) is a pretty awesome forward line to choose from…albeit there are some ageing legs 🦵 in there now‼️ Suarez has 7️⃣ goals and 4️⃣ assist in his 13 World Cup appearances 👍. I expect Suarez and Nunez to be the first choice pairing up 🔝.
🖊 On Pens…Luis Suarez
🎲 Odds to win the 🌎🏆 = 40/1
3️⃣ Ghana 🇬🇭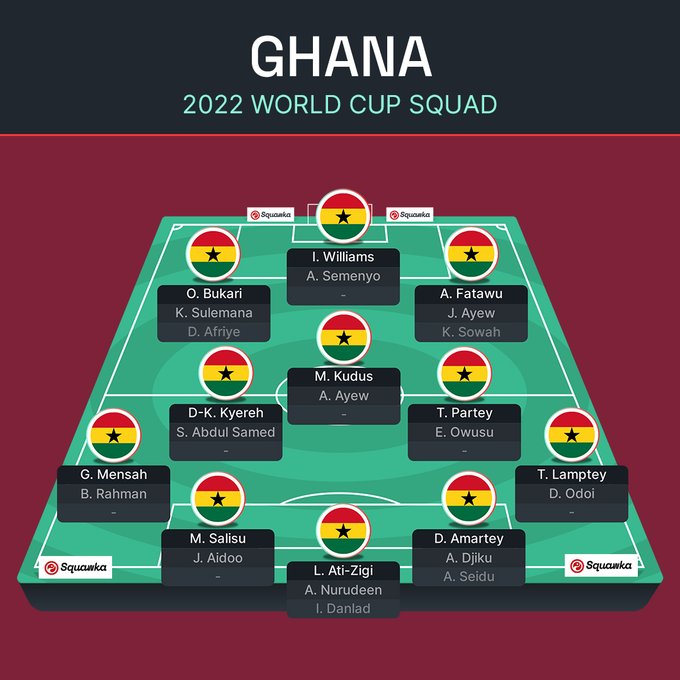 🇬🇭 Ghana are managed by German 🇩🇪 born Ghanaian Otto Addo who took charge of the team earlier this year. 
🇬🇭 In qualifying they topped the group (on head to head), with South Africa left in 2nd place. Many Ghanians believe this is their weakest squad for a generation though 🤷🏾‍♂️. They are perhaps Africa's most unpredictable nation in Qatar 🤔.
🇨🇲 In nets should be Nurudeen ($4.5m). 
🇨🇲 In defence Southampton's Mohammed Salisu ($3.5m) should get plenty of minutes and is cheap as chips 🍟. Abdul-Rahman Baba ($3.5m) is familiar to me given the time he's spent in the Championship with Reading. Denis Odoi ($4m) of Club Brugge in Belgium should also feature.
🇬🇭 Arsenal's Thomas Partey (not priced at the time of writing), Leicester's Daniel Amartey ($4.5m) Ajax's Mohammed Kudus ($6m) , Brighton's Tariq Lamptey ($4m) are more names that people will be aware of. Kudus ($6m) in particular is seen as an exciting young talent and is likely to take up an attacking false 9️⃣ position. 
🇨🇲 Palace's 🦅Jordan Ayew is $6m and his brother Andre who now plays for Al Saad is the same price. Both are expected to be nailed 🔨 in the team.  
🖊 On Pens…Jordan Ayew 🦅 then Andre Ayew
🎲 Odds to win the 🌎🏆 = 250/1
4️⃣ South Korea 🇰🇷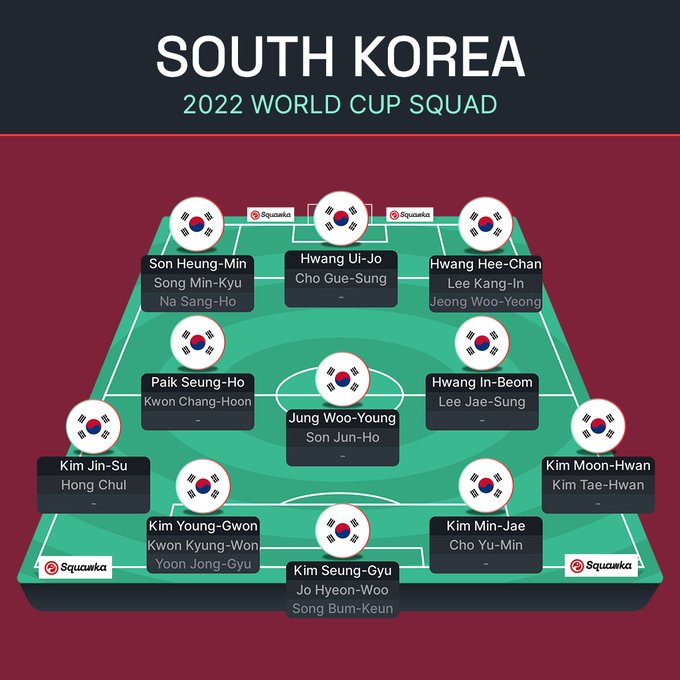 🇰🇷 South Korea are managed by Paulo Bento 🇵🇹 and have now qualified for 10 consecutive World Cups‼️ They've only managed to get out of the group stages on 2️⃣ occasions though. On one of those occasions (when co-hosting the tournament in 2002), they did make the semis though 👏 . 
🇰🇷 They've suffered some heavy defeats in the not too distant past…Brazil demolished them 5-1 in June and then big rivals Japan 🇯🇵 beat them 3-0 in July of this year. 
🇰🇷 Kim Seung-gyu ($4.5m) should be in goals 🥅
🇰🇷 Napoli's central defender Kim Min-jae will be at centre back and costs $4.5m. 
🇰🇷 Wolves 🐺 midfielder Hwang Hee-chan will provide attacking intent from midfield and costs $6.5m. Another creative force will be 🇪🇸Mallorca's Lee Kang-in ($ tbc).
🇰🇷 We'll have to wait and see 👀 if Heung-min Son is fit enough to make the opening Group games but he's been declared fit enough to make the squad. He costs $8.5m and is their Talisman. 
🖊 On Pens…Heung-min Son
🎲 Odds to win the 🌎🏆 = 200/1
🚶‍♀️ Portugal and Uruguay should walk this group to be honest…and especially if Son isn't fully fit due to his eye 👁 socket injury.
<Admin #Chindle13 >