Fantasy World Cup 2022 : Group G Summary
4 min read
🚨World Cup Group G Summary 🚨
📊 Predicted Group Finish:
1️⃣ Brazil 🇧🇷 
2️⃣ Serbia 🇷🇸  
3️⃣ Switzerland 🇨🇭 
4️⃣ Cameroon 🇨🇲 
✍️ Team By Team Thoughts & Info:
1️⃣ Brazil 🇧🇷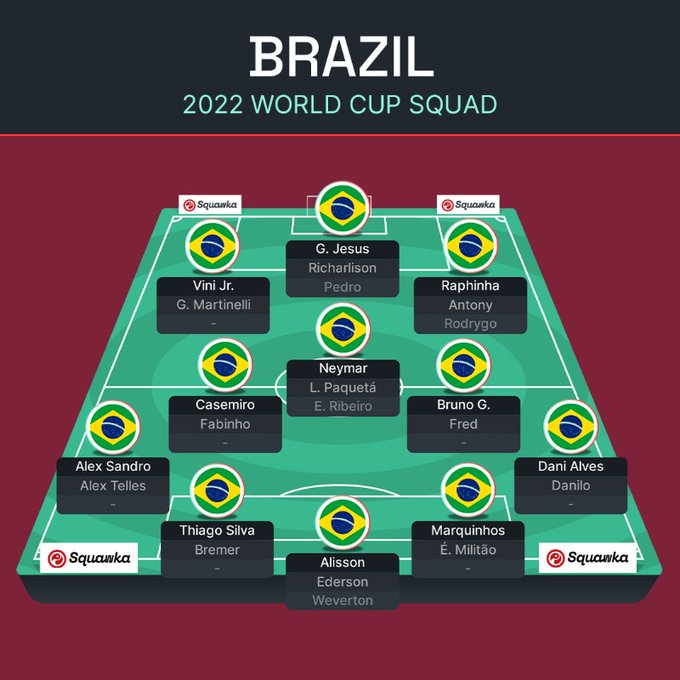 🇧🇷 Managed by Tite, Brazil probably have the most talented squad of players in the tournament. Will they deliver though❓ Incredible really to think that the Samba Boys haven't reached a World Cup 🏆 final in 20 years‼️ Unbeaten in qualifying (impressive) they had their bubble burst somewhat by Argentina beating them in the Copa America. If they don't win the World Cup in Qatar it will equal their longest ever World Cup draught (24 years).  It's actually going to be quite difficult to pin 📌 down who will play enough minutes to justify a Fantasy pick though‼️
🇧🇷 Liverpool's Alisson ($6m) will be in nets 🥅 and Ederson ($5.5m) on the bench 🪑.
🇧🇷 Chelsea's Thiago Silva ($6m) and PSG's Marquinhos ($5.5m) will play centre back with Juve's Danilo ($5.5m) most likely on the right and Juve teammate Sandro ($5m) on the left. Telles ($4.5m) is also in the mix though. 
🇧🇷 Man United's Casemiro ($6m) will start for sure. Fellow Manc Fred (also $6m) may play alongside him. West Ham's Paqueta ($7m) or Real Madrid's Vincius Junior ($10.5m) should play on the left albeit VJ is classified as a striker by Fantasy‼️ Former Leeds man Raphinha ($8.5m) is also classified as a striker and should be on the right. Martinelli has also made it into the squad after his fine form for Arsenal.  🦓Bruno G ($8m), Antony ($8.5m) and Fabinho ($6.5m) are also there from the Premier League. 
🇧🇷 Neymar is nailed but it's actually quite tough to pick the other attacking Brazil midfielders for minutes as they have so much talent at their disposal. 
🇧🇷 Spurs man 🐀 Richarlisson ($7.5m) looks like being the no.9️⃣ if he's fully fit as he's done well for Brazil in recent times. 
🖊 On Pens…Neymar 
🎲 Odds to win the 🌎🏆 = 4/1 Fav
2️⃣ Serbia 🇷🇸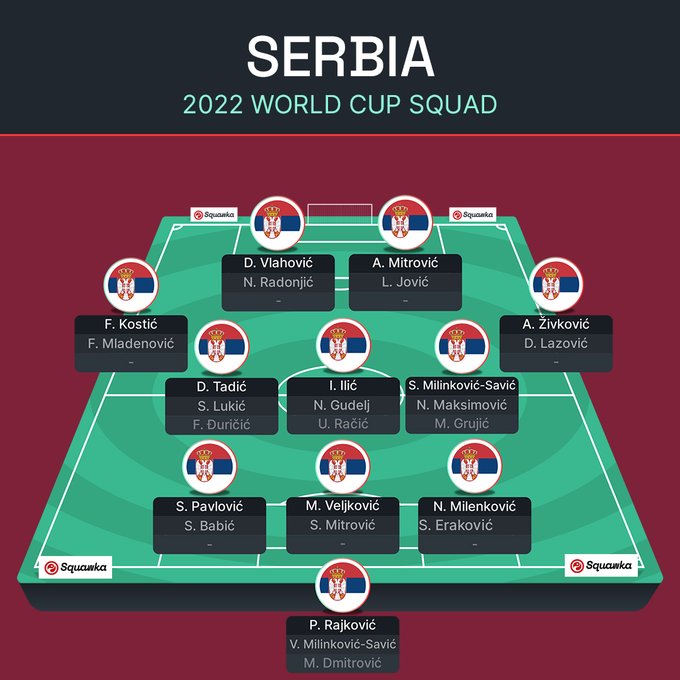 🇷🇸 Serbia are managed by 🐉 Dragan Stojkovic and he's brought with him an attacking and attractive style of play. They were unbeaten during qualifying. 
🇷🇸 The goalie position doesn't seem 100% nailed…Torino's Milinkovic-Savic is regarded as being better with his feet and could get the nod over Mallorca's Rajkovic ($4m) for that reason.
🇷🇸 Milenkovic ($4m) sounds as though he's nailed in defence. Veljkovic ($4.5m) and Pavlovic will most likely feature with him. 
🇷🇸 The wingback roles will likely be taken by Zivkovic ($5m) who is classified as a midfielder and Kostic ($6m) also classified as a midfielder with Sergei Milinkovic-Savic (not the goalie!) playing centrally and costing $7m. Former Southampton star ⭐️ Dusan Tadic ($8m) will play just behind the striker(s) as he does at Ajax. 
🇷🇸 Mitrovic ($7m) and Juventus star ⭐️ Vlahovic ($8.5m) provide excellent striking options as does Luka Jovic ($7m) as well tbf‼️ It sounds as though Mitrovic is doubtful for their opening game due to his 🦶injury. 
🖊 On Pens…Vlahovic / Mitrovic then Tadic 
🎲 Odds to win the 🌎🏆 = 80/1
3️⃣ Switzerland 🇨🇭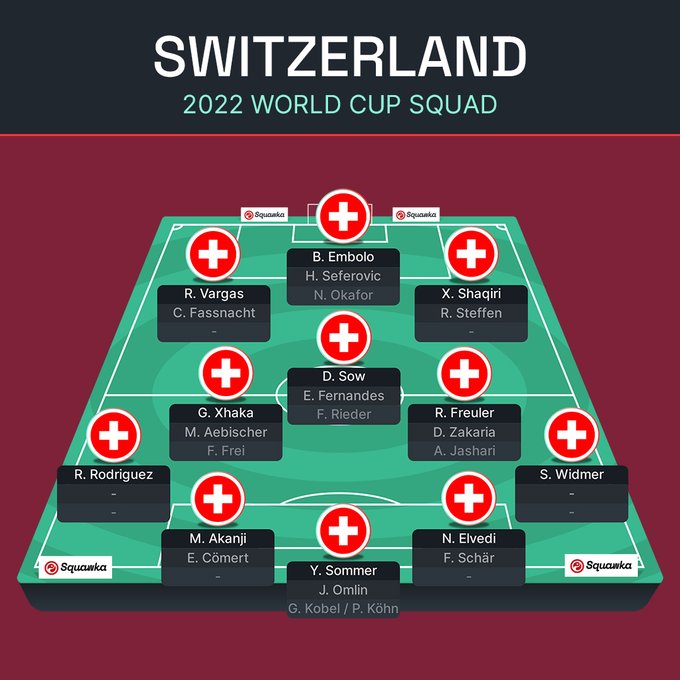 🇨🇭Switzerland are managed by Murat Yakin. Favouring a 4-2-3-1 formation he's got a tendency to be a defence minded coach as is evidenced by keeping 5 clean sheets in his first 7 games in charge.  They always seem to flatter to deceive in major tournaments and rarely seem to deliver on their potential. 
🇨🇭 Sommer ($5m) will be in nets 🥅 if he recovers from an ankle injury 🩼. Kobel ($4m) is most likely to step up if Sommer is ruled out. 
🇨🇭 The back 4 pretty much picks itself…Widmer ($4.5m), Akanji (from Man City) costs $5m, Elvedi ($4.5m) and Torino's Ricardo Rodriguez ($4.5m). 📝 Note that Rodriguez could be on penalties for the Swiss and is very attacking in the final third of the pitch. He's a good option. 
🇨🇭 Arsenal's Granit Xhaka ($7m) and either Freuler ($5m) or $5.5m Denis Zakaria (of Chelsea) are expected to be in the centre of midfield. Former Stoke & Liverpool player Shaqiri ($7.5m) is the creative force in the team.
🇨🇭There seems to have been a changing of the guard up front with Embolo ($6.5m) now preferred to Seferovic ($4.5m). It's not completely clear who will lead the line if you look at the amount of rotation that took place during qualifying. Noah Okafor ($6m) got game time though⏰.
🖊 On Pens…Rodriguez then Seferovic 
🎲 Odds to win the 🌎🏆 = 66/1
4️⃣ Cameroon 🇨🇲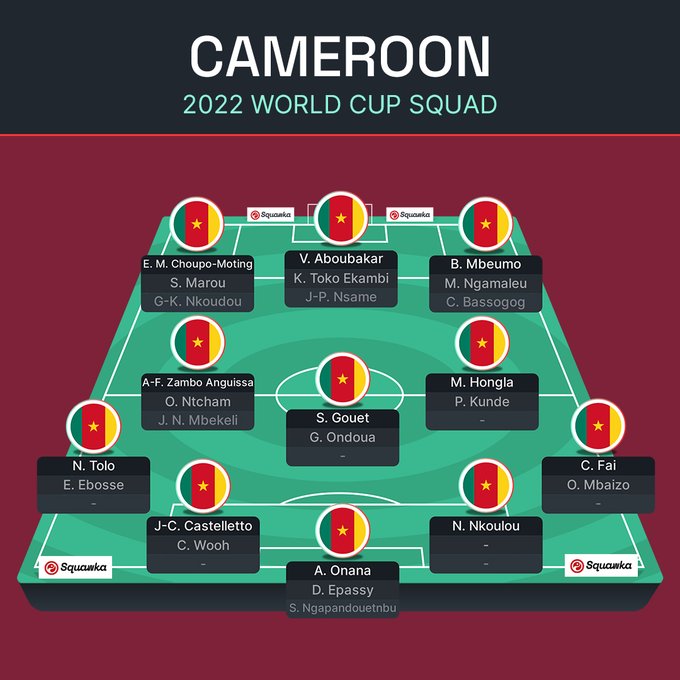 🇨🇲 Cameroon are managed by Rigoberto Song – a name that will be familiar to people of my age‼️ From the research that I've done it sounds as though Samuel Eto'o has a fair bit of influence too though from further up the food chain‼️ Whoever is conducting the orchestra 🎶 Cameroon's fans will be expecting a good showing from their team up in their 8th World Cup appearance…that's 2 more appearances than any other African 🌍 team.  Their last win in a World Cup game came 20 years ago in 2002 so expectations probably need managing. 
🇨🇲 Inter Milan's Onana ($5m) is nailed in nets 🥅 but is so far (at the time of writing) only 1️⃣ of 2️⃣ Cameroon players actually priced up by FIFA Fantasy‼️
🇨🇲 Castelletto should be nailed centrally in defence as should full backs Fai & Tolo 
🇨🇲 Napoli's Anguissa is nailed 🔨 in midfield. There will be both pace and talent on the wings…Ngamaleu and Ekambi should both feature. Brentford's Bryan Mbuemo has also now committed to Cameroon (over France🇫🇷) and should prove to be a good addition…let's see how many times he hits the woodwork 🪵 on the biggest stage of all.
🇨🇲 In attack we should see former Stoke player Eric Maxim Choupo-Moting alongside Cameroon captain Aboubakar 
🇨🇲 Only 2️⃣ players make the squad who play in Cameroon's domestic league – Marou (Coton Sport) & Mbekeli (Colombe Sportive). 
🖊 On Pens…Aboubakar then Ngamaleu
🎲 Odds to win the 🌎🏆 = 250/1
🚶I'd expect Brazil to progress comfortably but that 2nd spot is probably up for grabs by any of the other 3 IMO‼️
<Admin #Chindle13 >