Fantasy World Cup 2022 : Group E Summary
4 min read
🚨World Cup Group E Summary 🚨
📊 Predicted Group Finish:
1️⃣ Germany 🇩🇪 
2️⃣ Spain 🇪🇸 
3️⃣ Costa Rica 🇨🇷 
4️⃣ Japan 🇯🇵 
✍️ Team By Team Thoughts & Info:
1️⃣ Germany 🇩🇪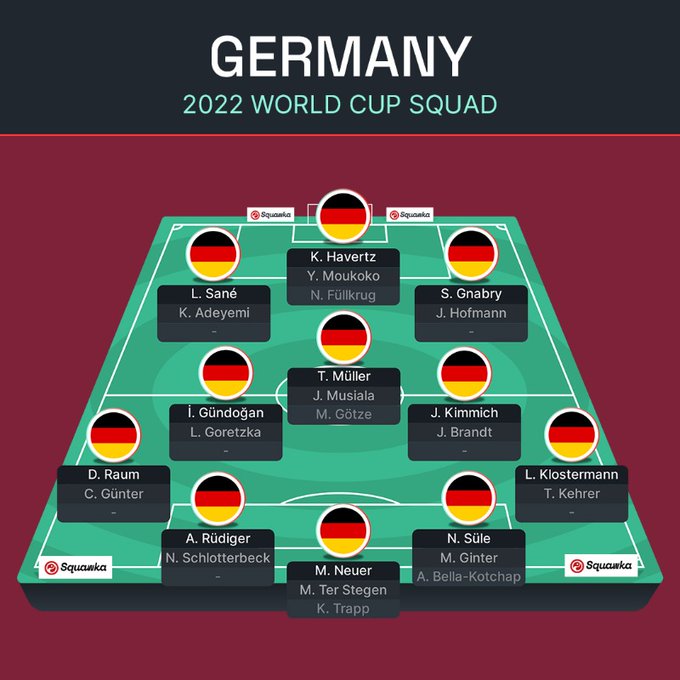 🇩🇪 Managed by former Bayern manager Hansi Flick, Germany will be expecting another strong showing in a major tournament – Qatar aside, they were the 1st team to qualify as they stormed to 9 wins out of 10 qualifying games.
🇩🇪 Manuel Neuer will be between the sticks once more 🥅 but at the time of writing hasn't been priced up. Leno is listed at $4.5m but isn't even in the squad 🤷‍♂️. Kevin Trapp ($4.5m) and Barca's Marc-Andre ter Stegen ($ tbc) will back up Neuer.
🇩🇪 Rudiger ($5.5m) & Sule ($ tbc) look set to be the centre back partnership. David Raum ($ tbc) & Wes Ham's Thilo Kehrer ($5m) will compete for the fullback slots with Leipzig's Klostermann also in the mix. Another Premier League name that people will be aware of (Bella-Kotchap) also made the plane ✈️ to Qatar 🇶🇦.
🇩🇪 Man City's Ilkay Gundogan ($7.5m) and Bayern's Joshua Kimmich ($7m) should play from the base of midfield. Hoffman and former Man City man Sane ($9m) look like being the wide players. Serge Gnabry ($9m) and Thomas Muller ($9.5m) are both listed as Fantasy strikers but will probably play in the hole and this gives you an idea of how strong this German team is. Bayern Munich's Jamal Musiala ($8m) will also be a popular Fantasy pick and is expected to get plenty of minutes for the Germans 🇩🇪.
🇩🇪 Chelsea's Havertz is also categorised as a striker. The lanky, lethargic German costs $8.5m. 
🖊 On Pens…Gundogan ($7.5m) then Thomas Muller ($9.5m)
🎲 Odds to win the 🌎🏆 = 10/1
2️⃣ Spain 🇪🇸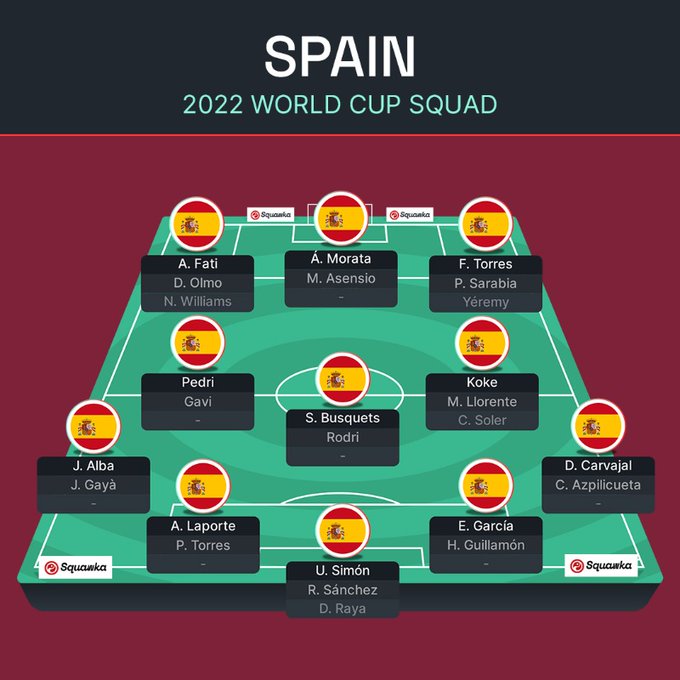 🇪🇸 Managed by Luis Enrique, he's slowly developed a new look Spain team since taking over in 2018.  He tends to deploy a 4-3-3 formation and despite showing plenty of quality at times they actually struggled through qualification – their worst set of qualifying results since 1992 in fact‼️ They've been eliminated in the last 2 World Cups 🏆 on penalties. 
🇪🇸 Unai Simon ($5.5m) will be in goals for sure 🥅.
🇪🇸 From my research I can't be sure at all who will be deployed in defence as Enriquez's used so many different combinations. It seems better to avoid their defenders tbh despite there being a wealth of talent there‼️
🇪🇸 There are some question marks in midfield too…will Busquets ($5.5m) play for example❓Barcelona's Gavi ($7m) and Pedri ($8.5m) look to be more nailed though. As far as I can make out, Koke ($6m) and Soler are most likely subs. On the wings Ferran Torres ($7m) and Sarabia ($ tbc) should get lots of game time.
🇪🇸 Morata ($8m) should be up top despite only managing 2 goals in qualifying. 
🖊 On Pens…Morata ($8m) then Sarabia 
🎲 Odds to win the 🌎🏆 = 8/1
3️⃣ Costa Rica 🇨🇷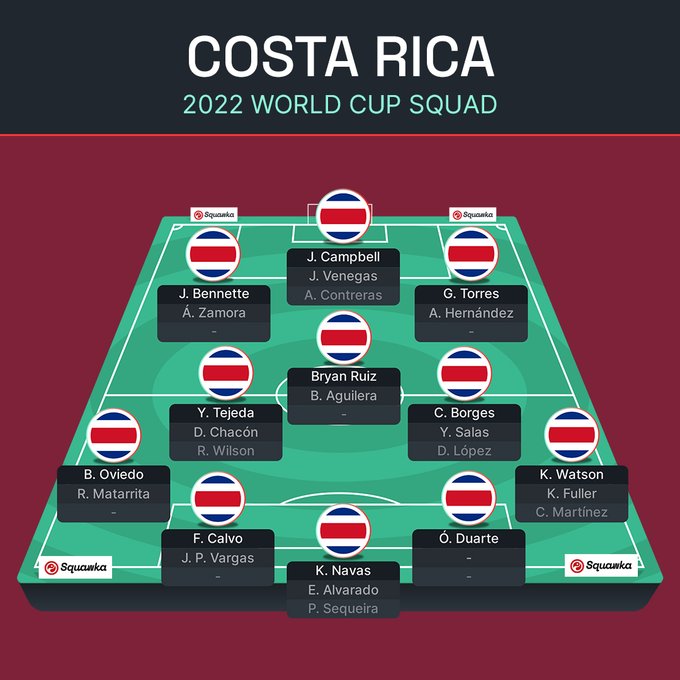 🇨🇷 Managed by Luis Fernando Suarez since 2021, they've got a highly experienced coach that somehow managed to get them qualified despite just 1 win from their first 7 qualifiers‼️ The beat New Zealand 🇳🇿 in the play offs to make it to Qatar 🇶🇦. Suarez' some natural style is to be a defensive coach but they've got some decent attacking options…including one of my very own black cats 🐈‍⬛- Jewison Bennette (£5.5m midfielder)‼️
🇨🇷 Legendary goalie Keylor Navas ($5m) of PSG will be between the sticks 🥅.
🇨🇷 Calvo ($4m) and Duarte ($4m) will be in defence whether they play a back 4 or 5. Former 🍫Everton and (another) former Sunderland 🐈‍⬛ player Bryan Oviedo ($4.5m) now at Real Salt Lake might well get the nod at LWB. 
🇨🇷 Loads of expereince in midfield with Borges (not FPL maestro Fabio 😆) at $4.5m and Tejeda at $4.5m but there's a younger player in Galo ($4.5m) who could apparently push them for minutes ⏰. My boy Jewison Bennette ($4.5m) will play on the left and Gerson Torres ($ tbc) should be on the right but is classed as a striker.
🇨🇷 Contreras at just $5m is the most likely striker option seemingly although Campbell is priced higher at $6m.
🖊 On Pens…Borges ($4.5m) then Venegas ($5m)
🎲 Odds to win the 🌎🏆 = 750/1
4️⃣ Japan 🇯🇵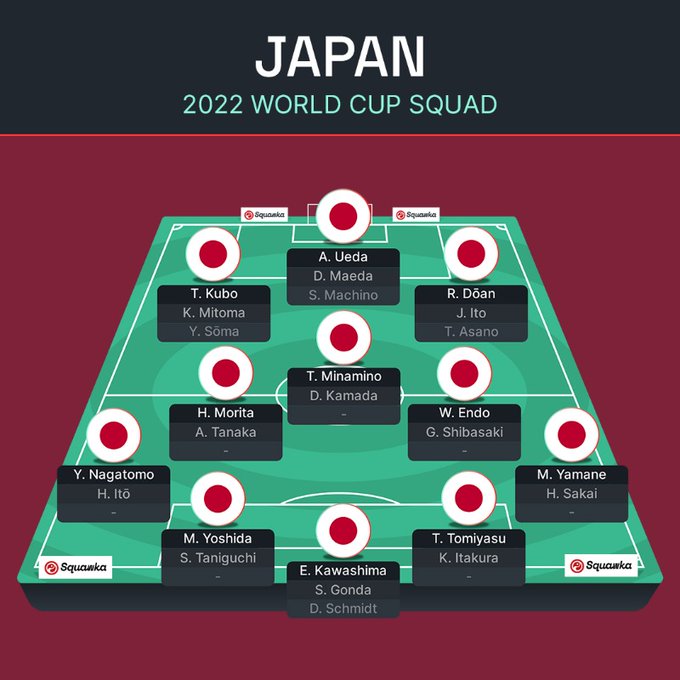 🇯🇵 Managed by Hajime Moriyasu, blitzed qualification scoring 46 goals and conceding just 2 in 8 games‼️ There'll be a very big step up in quality of opponents here though‼️
🇯🇵 Gonda ($ tbc) will be goalie 🥅 or else Kawashima ($4.5m) from Strasbourg🇫🇷.
🇯🇵 Arsenal's Tomiyasu ($4.5m) and Schalke's Yoshida ($4.5m) will be known to FPL managers and should be mainstays in defence. 
🇯🇵 Endo ($5m) who plays for Stuttgart is in the CDM role. Former Liverpool player Minamino ($7m) will feature for sure. He now plys his trade in Monaco. 
🇯🇵 It's not clear to me who will be in attack. Ritsu Doan ($6m) and 🏴󠁧󠁢󠁳󠁣󠁴󠁿Celtic's Maeda ($6m) are perhaps two of the likelier options.
🖊 On Pens…Kamada ($5.5m) then Minamino ($7m)
🎲 Odds to win the 🌎🏆 = 200/1
🚶‍♂️Spain and Germany will feel confident that they'll walk this group but we shall see 👀
<Admin #Chindle13 >