Fantasy World Cup 2022 : Group D Summary
4 min read
🚨World Cup Group D Summary 🚨
📊 Predicted Group Finish:
1️⃣ France 🇫🇷 
2️⃣ Denmark 🇩🇰 
3️⃣ Australia 🇦🇺 
4️⃣ Tunisia 🇹🇳 
✍️ Team By Team Thoughts & Info:
1️⃣ France 🇫🇷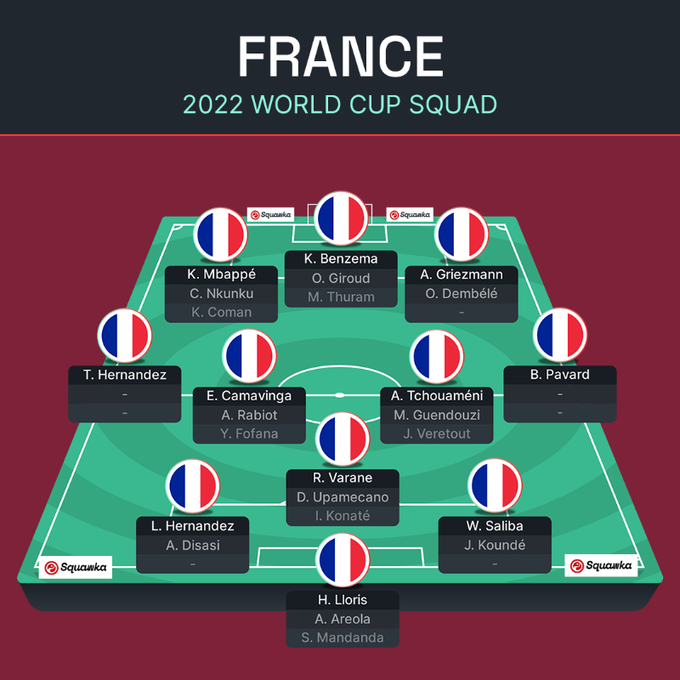 🇫🇷 Didier Deschamps leads France into another major tournament…this time as World Cup holders 🏆. No team has retained the World Cup since Brazil 🇧🇷 in 1962 though 🤷‍♂️. They've also (fairly) recently won another trophy with the 2021 Nations League victory over Spain 🇪🇸 which might give them hope. Their form hasn't been great most recently though and Deschamps is under some pressure to deliver. 
🇫🇷 Spurs' Hugo Lloris ($6m) should be in goals 🥅.
🇫🇷 Kimpembe ($5m) has been carrying an Achilles injury and is out of the squad sadly. Kounde ($6m) , Saliba & Lucas Hernandez ($5.5m) will compete for defensive spots if Varane's ($6m) out injured – Deschamps has called him up though & declared he should be fit to play 🤷🏼‍♂️.  Theo Hernandez (not yet priced at the time of writing) looks nailed at LWB but things aren't as clear on the RWB side as far as I can make out…Pavard ($5m), Clauss and possibly even Coman ($8m) being options on the right hand side. Note that Kingsley Coman is classed as a midfielder in Fantasy. 
🇫🇷 Tchouameni ($6.5m) is nailed 🔨 and Juve's Rabiot ($6.5m) is likely to feature too. Pogba is confirmed out with injury. Griezmann ($8.5m) is obviously nailed in the hole (sounds painful 😆).
🇫🇷 Benzema ($11m) & Mbappe ($11.5m) will lead the forward line and will be popular Fantasy picks for sure.  Worth noting though that Benzema has played less than 30 mins in the past 3 weeks due to injury. Giroud ($7.5m) is always on the scene too as back up. Likewise the much talked about Christopher Nkunku ($9m) will be looking to make an impact. 
🇫🇷 I fancy France to make at least the semis.
🖊 On Pens…Benzema ($11m) then Mbappe ($11.5m)
🎲 Odds to win the 🌎🏆 = 6/1
2️⃣ Denmark 🇩🇰 
🇩🇰 Managed by Kasper Hjulmand since 2020 he's impressed with 22 wins from 33 matches. During World Cup qualification under him they managed 8️⃣ consecutive clean sheets and also beat France both home and away in the Nations League. They're looking good basically. 
🇩🇰 Kasper Schmeichel who now plays for Nice in France will be in nets 🥅.
🇩🇰 Simon Kjaer ($ tbc), Christensen ($5m) & Andersen (also $5m) will play if they set up with a back 3️⃣. Hjulmand is renowned for mixing things up though‼️ Leeds' Kristensen ($4m) and Atalanta's Maehle ($4.5m) will be deployed as either full backs or wing backs irrespective of the formation.  Maehle looks 👀 like a great Fantasy option to me…he's been deployed in a midfield role on several occasions recently so could well be a nice out of position (OOP) asset 💙.
🇩🇰 Midfield will see Spurs Hojberg ($6.5m) + Thomas Delaney of Sevilla and Man United's Eriksen ❤️ ($8m). Olsen ($6m) looks like very good value. Brentford's🐝 Damsgaard ($6m) might not be nailed for mins but should get some game time. 
🇩🇰 Dolberg of Sevilla🇪🇸 looks most likely to lead the line albeit his record isn't great and he's not yet priced up by FIFA Fantasy. Braithwaite comes in at $6.5m. Jonas Wind 💨 who plays for Wolfburg is priced at $5.5m.
🖊 On Pens…Eriksen ❤️ ($8m) then Hojberg ($6.5m)
🎲 Odds to win the 🌎🏆 = 28/1
3️⃣ Australia 🇦🇺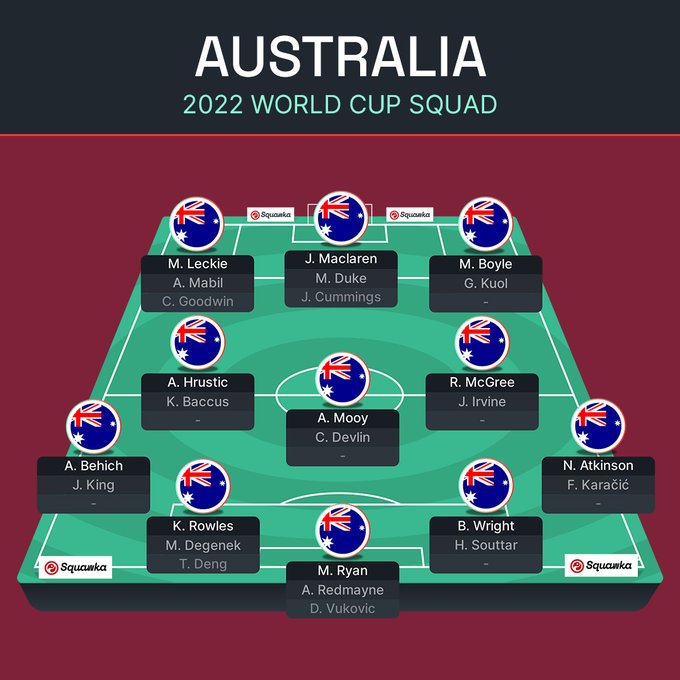 🇦🇺 Graham Arnold comes into the tournament under big pressure as manager. They failed to qualify automatically and snook past Peru 🇵🇪 on penalties in the play offs.
🇦🇺 Matt Ryan ($4.5m) should be in goals 🥅
🇦🇺 The defence doesn't seem to be very settled from what I can make out with Atkinson, Souttar ($4m), Karacic and Degenek ($4.5m) all in the mix. Sainsbury controversially didn't make the squad despite being the coach's son in law‼️
🇦🇺 Midfield looks clearer 👀 with Mooy ($5m) nailed, Irvine ($4.5m) and Hrustić ($5m). Boyle ($4.5m) and Leckie ($4.5m) should be on the wings albeit these last 2 lads are categorised as strikers by Fantasy.
🇦🇺 Taggart ($4.5m) is the usual no.9 but didn't make the cut due to injury. Duke ($4.5m) is in the mix and Maclaren too. 
🖊 On Pens…Maclaren or Cummings 
🎲 Odds to win the 🌎🏆 = 500/1
4️⃣ Tunisia 🇹🇳 
🇹🇳 Managed by Jalel Kadri, Tunisia somewhat sneaked into the World Cup by beating Mali (via an own goal) in a game that very few people thought they deserved to win. I've seen quite a few pundits say that Tunisia could be the weakest African team ever to go to a World Cup…we shall see 👀‼️ 
🇹🇳 I understand that they are a defence first type team who like to play on the counter attack.
🇹🇳 Ben Said ($4m) is under pressure from Dahmen ($4m) in goals 🥅.
🇹🇳 The defence is likely to be: Drager ($4m), Bronn ($3.5m), Talbi ($4m) & Maaloul ($3.5m). 
🇹🇳📝 Note that Maaloul ($3.5m) is likely to be on corners and some other set-pieces and he's managed to get 2️⃣ assists for his club side (Al Alhy) this season. 
🇹🇳 Captain Msakni ($4.5m) will be nailed in an attacking midfield role but he's classified as a striker by Fantasy.
🇹🇳 Jaziri ($4.5m) should get the nod in the no.9 position with Khazri as back up at $4.5m and classified as a midfielder by Fantasy.
🖊 On Pens…Khazri then Jaziri 
🎲 Odds to win the 🌎🏆 = 750/1
🚶On paper this group should be a walk in the park for 🇫🇷France and 🇩🇰Denmark 
<Admin #Chindle13 >