Fantasy World Cup 2022 : Group C Summary
3 min read
🚨World Cup Group C Summary 🚨
📊 Predicted Group Finish:
1️⃣ Argentina 🇦🇷 
2️⃣ Mexico 🇲🇽 
3️⃣ Poland 🇵🇱 
4️⃣ Saudi Arabia 🇸🇦 
✍️ Team By Team Thoughts & Info:
1️⃣ Argentina 🇦🇷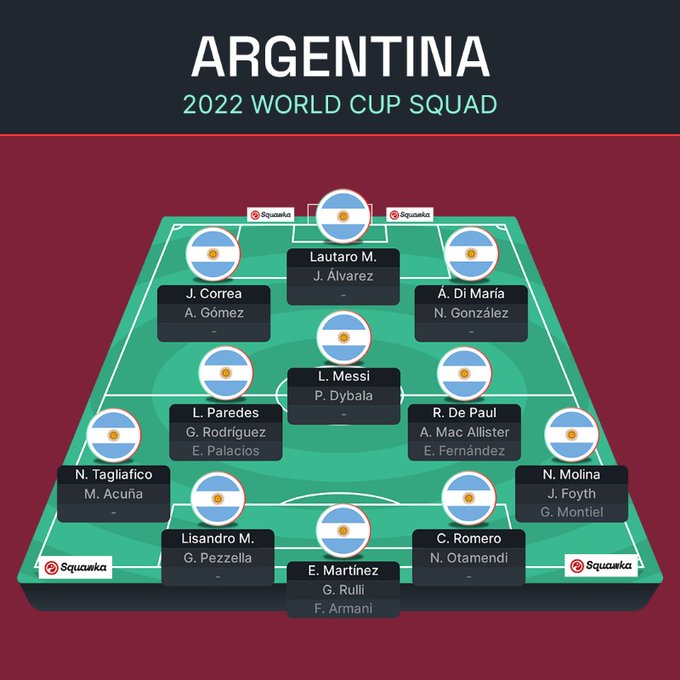 🇦🇷 Managed by Lionel Scaloni since 2018, the coach tends to adopt a range of different formations. 
🇦🇷 Popular with the fans for bringing back a number of the old guard, he increased his popularity yet further with their 2021 Copa America win 🏆.
🇦🇷 Villa's Emi Martinez will be the goalie 🥅. River Plate's Armani should be well dressed on the bench 🪑.
🇦🇷 Cristian Romero from Spurs ($5.5m) and former Man City player Nicolas Otamendi ($5m), now at Benfica, will probably be the centre backs albeit Man United midget Lisandro Martinez ($6m) has also now put himself in the mix. Tagliafica of Lyon ($5.5m) should be the attacking LWB. 
🇦🇷 Midfield boss Rodrigo de Paul (£5m) of Athletico Madrid will be seemingly be nailed 🔨 and could be a bargain.  👼 Angel Di Maria comes in at $8.5m and is proven quality. He's got 4 goals ⚽️ in his last 7 matches. 
🇦🇷 Lionel Messi ($10.5m) will obviously be nailed‼️ Lautaro Martinez ($8m) and Dybala (also $8m) will lead the attack and are both obviously high quality players. Man City's Alvarez comes in slightly cheaper at $6.5m. Some strike force that‼️
🖊 On Pens…Messi ($10.5m) then Lautaro Martinez ($8m)
🎲 Odds to win the 🌎🏆 = 5/1
2️⃣ Mexico 🇲🇽 
🇲🇽 Managed by Tata Martino. When 1st appointed he enjoyed an amazing 11 match unbeaten run 🏃‍♂️- which included winning the CONCACAF Gold Cup 🏆 in 2019.  He's been under a lot more pressure recently though and fans have become somewhat annoyed by his perceived defensive approach and with an ageing squad. He likes to stick to a 4️⃣ at the back formation. 
🇲🇽 The Mexicans have been knocked out of their last 7 World Cups in the Round of 16 stage so have a good record of getting out of their group but going no further. 
🇲🇽 Club America's Guillermo Ochoa ($5m) incredibly looks set to play in goals for his 5th World Cup‼️
🇲🇽 In defence Alvarez should be at right back + Gallardo ($4.5m) at left back. Cesar Montes ($4m) & Nestor Araujo ($4.5m) will compete for the 2 centre back spots.
🇲🇽 Edson Alvarez ($5m) should be the CDM. Hector Herrera ($4.5m) plays like a box 📦 to box 📦 midfielder and will be one of the first names on the teamsheet. Napoli's Lozano ($6m) should be on the left wing but is classified as a striker.
🇲🇽 Wolves Jimenez ($6.5m) would usually be the no.9 but has been out of form so could come under pressure from Henry Martin of Club America. 
🖊 On Pens…Jimenez ($6.5m) then Pineda.
🎲 Odds to win the 🌎🏆 = 100/1
3️⃣ Poland 🇵🇱 
🇵🇱 Managed by Czeslaw Michniewicz who led his nation to Qatar via the play offs (beating Sweden 🇸🇪). They've now qualified for 4 successive majors tournament for the 1st time in their history.
🇵🇱 Juve's Szczesny ($5.5m) will be in goals and will feature in his 5th major tournament for the Poles‼️
🇵🇱 Bednarek ($4.5m), Glik ($4m) & Kiwior ($4m) should be nailed in defence. Villa's Matt Cash ($4m) 💷 is also competing for the right full back slot.
🇵🇱 Krychowiak ($6m) and Fiorentina's Zurkowski ($5.5m) look nailed 🔨 in midfield along with Napoli's Zielinski ($6.5m) 
🇵🇱 Class act Robert Lewandowski ($10m) will obviously lead the attack. The Barca hitman will be looking to make an impact on the biggest stage of all. 
🖊 On Pens…Lewandowski then Piatek.
🎲 Odds to win the 🌎🏆 = 100/1
4️⃣ Saudi Arabia 🇸🇦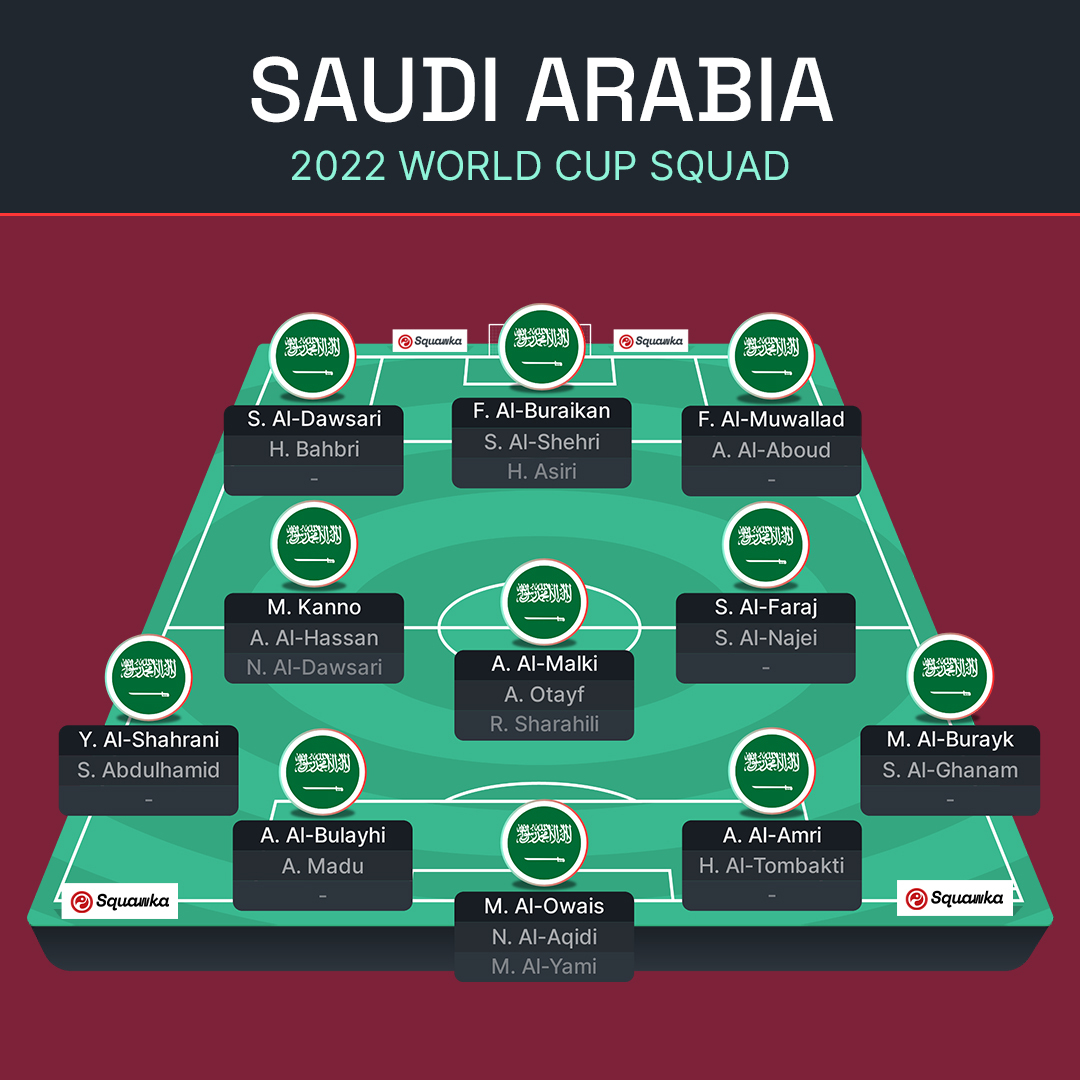 🇸🇦 Saudi Arabia are managed by Eddie Howe 🦓…sorry, Herve Renard 😉…the experienced and well qualified manager who won the AFCON with both Ivory Coast 🇨🇮 and Zambia 🇿🇲.
🇸🇦 The Saudis qualified well for the tournament via a group that contained decent opposition in Japan 🇯🇵 and Australia 🦘. 13 of their squad play for the same domestic club side (Al Hilal Riyadh) who are currently 4th in the league‼️
🇸🇦 It should be Al-Owais ($4m) in nets 🥅.
🇸🇦 Al-Bulaihi, Madu ($3m) and Al-Amri ($4m) are likely to compete for the centre back slots. I've not been able to work out who is likely to play in the wing back roles as a mix of players seem to have shared game time during the qualifiers.
🇸🇦 Captain Al-Faraj ($4m) usually operates as an advanced midfielder but is versatile so can play deeper too. 
🇸🇦 Up top Al-Buraikan is thought to be 1st choice but Al Dawsari should also feature.
🖊 On Pens…Al Dawsari ($4.5m) then Al-Shehri
🎲 Odds to win the 🌎🏆 = 750/1
🚶Argentina should on paper walk this group but it could be tight for that second spot between Mexico & Poland. 
<Admin #Chindle13 >