Fantasy World Cup 2022 : Group B Summary
4 min read
🚨World Cup Group B Summary 🚨
📊 Predicted Group Finish:
1️⃣ England 🏴󠁧󠁢󠁥󠁮󠁧󠁿 
2️⃣ USA 🇺🇸 
3️⃣ Wales 🏴󠁧󠁢󠁷󠁬󠁳󠁿 
4️⃣ Iran 🇮🇷 
✍️ Team By Team Thoughts & Info:
1️⃣ England 🏴󠁧󠁢󠁥󠁮󠁧󠁿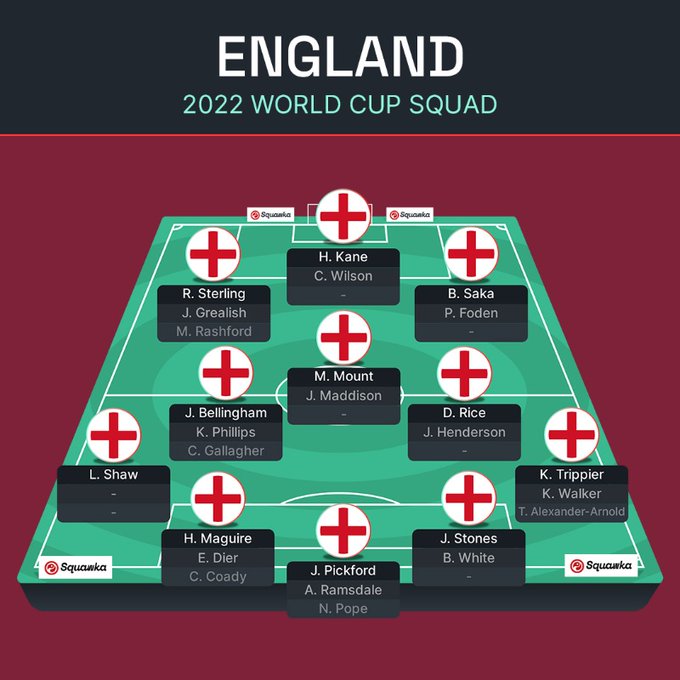 🏴󠁧󠁢󠁥󠁮󠁧󠁿 Managed by Gareth Southgate – considered to be quite a defence minded coach who shows a lot of loyalty (perhaps too much!) to those players that have served him well in the past. He's taken England to the semis and to the final of his last 2 majors tournaments which makes him England's 2nd most successful manager in history‼️
🏴󠁧󠁢󠁥󠁮󠁧󠁿 Currently on a long winless run and have failed to score an open play goal in 5 of their last 6 games. Only 1 CS in that time too 🤷🏼‍♂️.
🏴󠁧󠁢󠁥󠁮󠁧󠁿 Everton's Pickford ($5.5m)🦖will be in nets 🥅. He's clearly Southgate's no. 1.
🏴󠁧󠁢󠁥󠁮󠁧󠁿 Injuries have decimated the wing / full back positions.
🏴󠁧󠁢󠁥󠁮󠁧󠁿 Stones ($5.5m), Dier & Maguire ($5.5m) are likely to feature in the centre of defence. Trippier, Shaw and Walker are likely to get more game time than the less trusted TAA. 
🏴󠁧󠁢󠁥󠁮󠁧󠁿 Bellingham ($7.5M) and Rice ($6.5m) are likely to feature in the centre of midfield. Out of form Sterling ($8.5m) is likely to get a lot of game time in midfield but is classified as a striker in Fantasy. Foden ($8.5m) and Saka ($8m) will likely compete for minutes.
🏴󠁧󠁢󠁥󠁮󠁧󠁿 Kane ($11m) is nailed up front and is top scorer in the squad with 51 goals.
🏴󠁧󠁢󠁥󠁮󠁧󠁿 Always a big emphasis put on set pieces at both ends of the pitch.
🏴󠁧󠁢󠁥󠁮󠁧󠁿 Is it coming home❓…almost certainly not but they should get out of this Group easily enough. 
🖊 On Pens…Kane ($11m) then Rashford 
🎲 Odds to win the 🌎🏆 = 7/1
2️⃣ USA 🇺🇸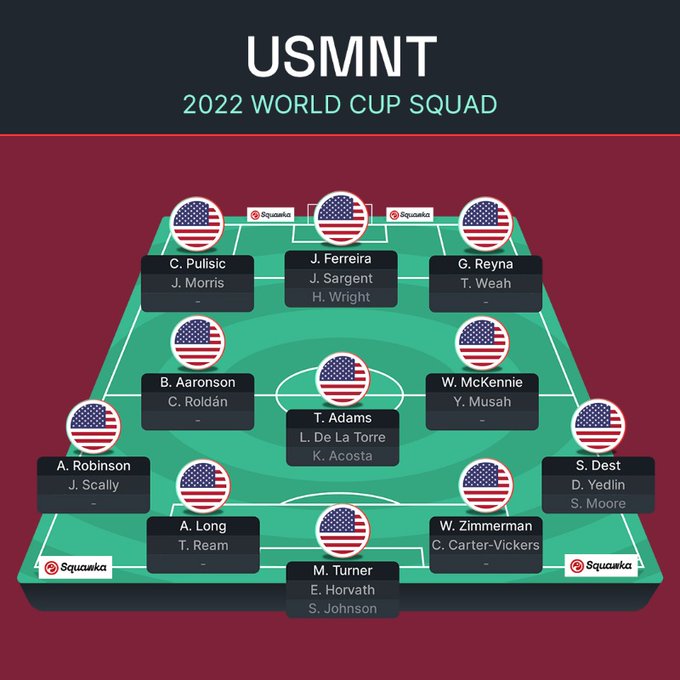 🇺🇸 Managed by Greg Berhalter who likes a 4-3-3 attacking formation. They tend to play a high line so are vulnerable to good attacking teams. He places a massive amount of importance on the full back positions. 
🇺🇸 Very inconsistent form in qualifying and in the friendlies since.
🇺🇸 The USA enjoy a good record against England in World Cups…could another (3rd) shock be in the offing?
🇺🇸 Arsenal's Matt Turner ($4.5m) should get the nod for the goalie slot with Zack Steffan having been surprisingly left out of the squad. Ethan Horvath (of Luton Town 🎩) and Sean Johnson (NYC FC) provide the back up. 
🇺🇸 Walker Zimmerman & Aaron Long (both $4m) are expected to play centre half. AC Milan's Dest ($5m) & Fulham's Robinson ($4m) should be the fullbacks. Robinson is regarded as being their best crosser and was nailed for mins across all qualifying. 
🇺🇸 Leeds' Tyler Adams ($5.5m) and McKennie ($6m) are the runners in midfield (👀look out for McKennie's long throws too‼️) with Musah (£6m) the one that engineers chances alongside Leeds' Aaronson ($6m). Chelsea's Pulisic ($7.5m) will be sure to feature. He's their top scorer in the squad with 21 goals.
🇺🇸 The striker slot has been a concern to USA fans with very few goals coming from their main options…Jesus Ferreira ($5.5m) is probably 1st choice but isn't regarded as a great finisher. Norwich's Sargent is also in the squad but isn't expected to be nailed.  Gio Reyna ($7m) and Timothy Weah ($6.5m) are their most expensive strikers.
🖊 On Pens…Pulisic ($7.5m) then Gio Reyna ($7m)
🎲 Odds to win the 🌎🏆 = 100/1
3️⃣ Wales 🏴󠁧󠁢󠁷󠁬󠁳󠁿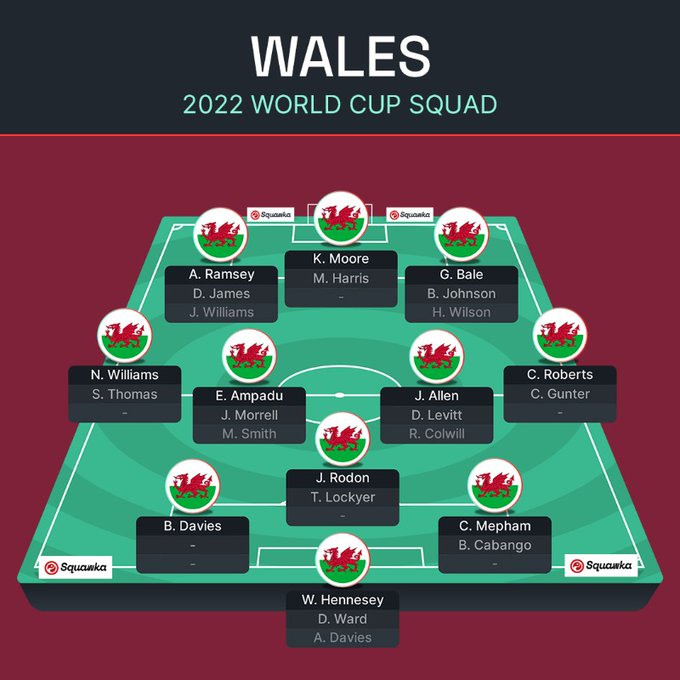 🏴󠁧󠁢󠁷󠁬󠁳󠁿 Managed by Rob Page since Ryan Giggs' troublesome private life meant he left the role.
🏴󠁧󠁢󠁷󠁬󠁳󠁿 Wales' 1st World Cup since 1958 so it's a big deal for Welsh fans.
🏴󠁧󠁢󠁷󠁬󠁳󠁿 Good form leading into the tournament and they've showed the ability to score goals (scoring in 12 in their most recent 14 competing games).
🏴󠁧󠁢󠁷󠁬󠁳󠁿 Leicester's Danny Ward ($4.5m) will be hoping to get the goalie slot but Wayne Hennessey ($4.5m) has played most recently.
🏴󠁧󠁢󠁷󠁬󠁳󠁿 Rodon ($4.5m) and Davies ($5m) should feature in defence. Roberts ($4m) & Neco Williams ($4.5m) should be the wing backs in a 3-4-2-1 formation.
🏴󠁧󠁢󠁷󠁬󠁳󠁿 Midfield will see the likes of Aaron Ramsey ($7.5m), Dan James ($6m), Harry Wilson ($6m) all featuring one way or another. 
🏴󠁧󠁢󠁷󠁬󠁳󠁿 Talisman Gareth Bale ($8m) will be deployed as a striker with Bournemouth's Kiefer Moore ($6m) also in the squad. 📝 Note that only Bale (7) has more goals than Moore (6) since Rob Page took over.  Forest's Brennan Johnson is in as a striker for Fantasy and costs $6m.
🏴󠁧󠁢󠁷󠁬󠁳󠁿 Bale is Wales' top scorer in the squad with 40 goals.
🖊 On Pens…Bale ($8m) then Ramsey ($7.5m)
🎲 Odds to win the 🌎🏆 = 150/1
4️⃣ Iran 🇮🇷 
🇮🇷 Carlos Queroz is now back in charge (only since September though‼️) after some very weird goings on with Dragan Skocic being sacked, reinstated and then sacked again! Queroz has good history with Iran (leading them into 2 previous World Cups) but he's not a massively popular choice this time around.
🇮🇷 Alireza Beiranvand should be goalie 🥅 but wasn't included in Fantasy's first draft list🤷‍♂️. He's famous for saving a CR7 penalty at the 2018 World Cup and also for having a ridiculously long throw…a tactic he and Iran often look to use‼️ Hosseini costs $4m and so does Abedzadeh.
🇮🇷 Hossenei ($4m) will be one of the centre backs.
🇮🇷 Ezatolahi ($4.5m) is nailed as the CDM but many of the other midfield spots appear to be up for grabs.
🇮🇷 If he's fit, Bayer Leverkusen's Sardar Azmoun ($4.5m) is likely to be up front and is Iran's top scorer in the squad with 40 goals. He's been carrying a thigh injury though.  🇵🇹Porto player Mehdi Taremi is also a key 🔑 player for Iran. At $7m he's a very pricey Fantasy option though‼️ He's got 27 goals and 13 assists across his 60 caps.
🖊 On Pens…Mehdi Taremi ($7m) or Karim Ansarifard ($4.5m)
🎲 Odds to win the 🌎🏆 = 250/1
🚶England should win this group with relative ease. Wales & the USA will likely be fighting it out for that /mid place. 
<Admin #Chindle13 >