Fantasy World Cup 2022 : Group A Summary
5 min read
🚨World Cup Group A Summary 🚨
📊 Predicted Group Finish:
1️⃣ Holland 🇳🇱
2️⃣ Senegal 🇸🇳 
3️⃣ Ecuador 🇪🇨 
4️⃣ Qatar 🇶🇦 
✍️ Team By Team Thoughts & Info:
1️⃣ Holland 🇳🇱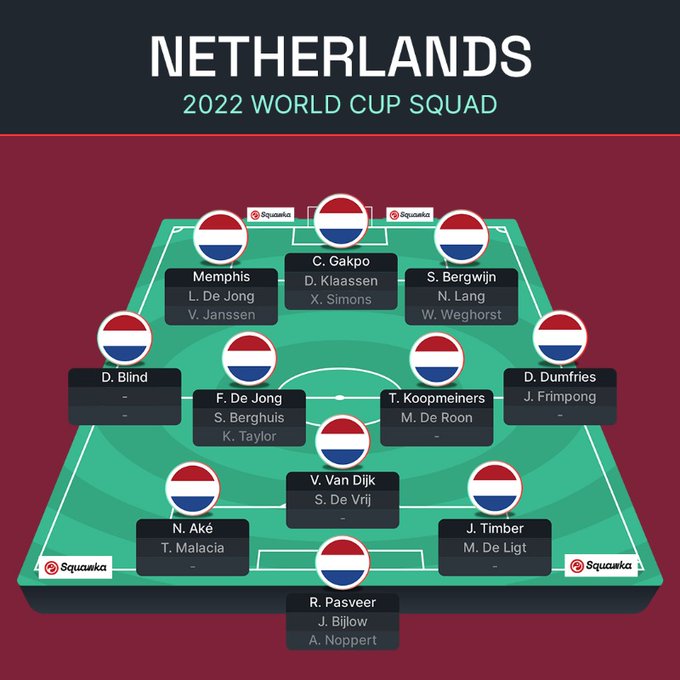 🇳🇱 Managed by Louis Van Gaal (LVG) – his 3rd time as Holland boss (Koeman is lined up to replace LVG after this tournament). Holland have scored in every one of LVG's games in his current reign. He's adopted a 4-3-3 in qualifying but has used a 3-4-1-2 during recent Nations Leagues games.
🇳🇱 They're on a 15 match unbeaten run (W11, D4) but only 2 have managed only 2 clean sheets during that period…in fact they've conceded at least once in 9 of 15 games under LVG.
🇳🇱 This is Holland's 1st World Cup appearance since 2014 and they've got a favourable schedule in terms of days between matches
🇳🇱 $5m goalie Cillessen didn't actually make the squad so the Dutch will be choosing between their 3️⃣ as yet unpriced goalies…Noppert, Pasveer & Bijlow. None of those lads particularly attract me given Senegal & Ecuador will probably score against them.  I believe that Feyenoord's Bijlow & Ajax's Pasveer are competing for that starting spot with reports suggesting Bijlow may get the nod despite Pasveer playing in September's recent matches. 
🇳🇱 VVD ($6m), Ake ($5m) & Timber ($5.5m) likely to be the bedrock of their defence. Denzel Dumfries ($6m) & Daley Blind👨‍🦯($5.5m) look like being the wing backs. Man United's Malacia ($5m) is also in the mix. 
🇳🇱 Frenkie DJ ($8.5M) looks nailed at the base of midfield and is a key 🔑 player for them. Gapko ($7m) seems likely to get an attacking midfield role (although classified as a striker) alongside Steven Bergwijn ($7m) who is classified as a midfielder but could well play as a striker (so a OOP Fantasy asset). Look out too 👀 for the exciting young talent Xavi Simons ($ tbc) who plays domestically for PSV.
🇳🇱 Memphis Depay ($8.5m) has been carrying a leg injury and is apparently a doubt for the first Group game. He's Holland's top scorer in the squad with 42 goals and is a massive player for them. He's also on pens.  Former Burnley donkey 🐴 Weghorst ($7m) & Antwerp's Vincent Janssen ($6.5m) are likely to be the back ups. 
🖊 On Pens…Memphis Depay ($8.5m)
🎲 Odds to win the 🌎🏆 = 14/1
2️⃣ Senegal 🇸🇳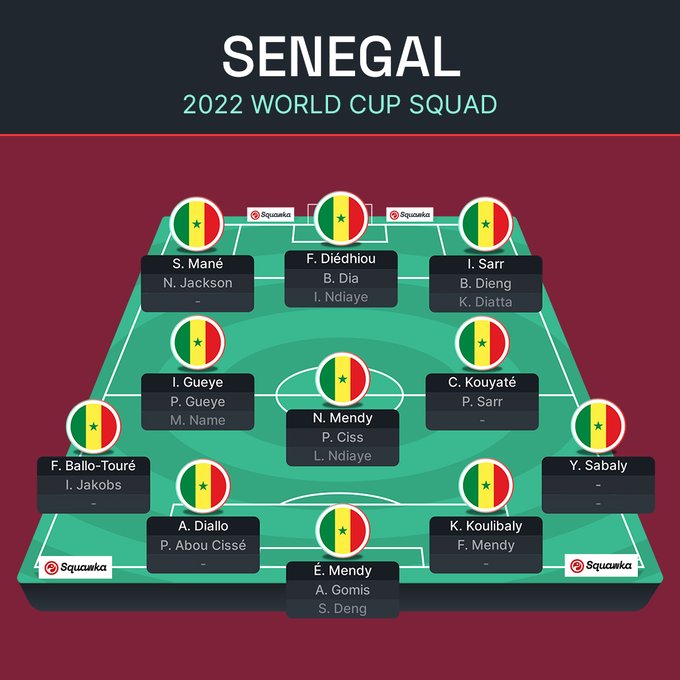 🇸🇳 Managed by Aliou Cisse for 7+ years.
🇸🇳 Probably Africa's form team over the past 12-18 months.
🇸🇳 Beat Egypt to win AFCON in January 2022 and then beat them again to qualify for the World Cup.
🇸🇳 Eliminated from the 2018 World Cup on the yellow card totting up process after finishing level with Japan on all other metrics…how unlucky can you get‼️
🇸🇳 Since qualifying began: P19, W13, D5, L1 – kept 10 CS in the process so very strong defensively – they've conceded just 51 goals in 77 games under manager Cisse.
🇸🇳 Tend to play in a 4-3-3 formation.
🇸🇳 Chelsea's Mendy ($5.5m) will be in nets 🥅
🇸🇳 Abou Diallo $4m & Kalidou Koulibaly $5.5m are seemingly nailed as Champions league regulars in defence 🔨. Diallo could be great value at that price too.  At left back should be the excellent Ballo-Toure of AC MIlan who costs just $4m.
🇸🇳 $6.5m Kouyate of Nottingham Forest 🌳 , $5.5m Gueye of Everton 🍫 & $5m Nampalys Mendy of Leicester City 🦊 are all likely to feature in midfield. 
🇸🇳 Mane ($8.5m) and $6.5m Ismailia Sarr would usually be the wide attacking players. Dia ($5m) will vie for the striker spot.
🇸🇳 Mane is their top scorer with 33 goals but he goes into the tournament carrying an injury that was deemed serious enough to make a doubt to even make the squad.
🖊 On Pens…Mane ($8.5m) then Sarr ($6.5m)
🎲 Odds to win the 🌎🏆 = 100/1
3️⃣ Ecuador 🇪🇨 
🇪🇨 Managed by Gustavo Alfaro after previous manager Jodi Cruyff bizarrely left without holding a single training session‼️
🇪🇨 Very inconsistent qualifying period…won 3 of their first 4 games but then lost 4 of their next 8.
🇪🇨 Brazil manager Tite has tipped them as a potential dark horse 🐴 for the World Cup 🏆.
🇪🇨 Strong defensively but attack minded too…albeit they're not prolific. Tended to draw a lot in the 2021 Copa America. Renowned for being good at set pieces.
🇪🇨 Considered weak in the goalie dept…Alexander Dominguez ($4.5m) is likely to get the nod albeit Galindez ($4m) did start the final few qualifiers. 
🇪🇨 Brighton's Pervis Estupinan ($4.5m) is their attacking LWB. Felix Torres ($4m) & Hincapie ($4.5m) are seemingly nailed at centre back 🔨.
🇪🇨 Brighton's dynamic Moises Caicedo ($5.5m) is perhaps their most interesting midfield asset.
🇪🇨 Enner Valencia ($6.5m) who now plays for Fenerbache in Turkey 🇹🇷 is Ecuador's all time top scorer (35 goals) but will be competing for minutes with especially Michael Estrada ($5m) of Cruz Azul. They may switch between a 2 and a 3 up front formation.  Note that Valencia played less than 50% of minutes during qualifying. 
🖊 On Pens…Enner Valencia ($6.5m) then Moises Caicedo ($5.5m)
🎲 Odds to win the 🌎🏆 = 150/1
4️⃣ Qatar 🇶🇦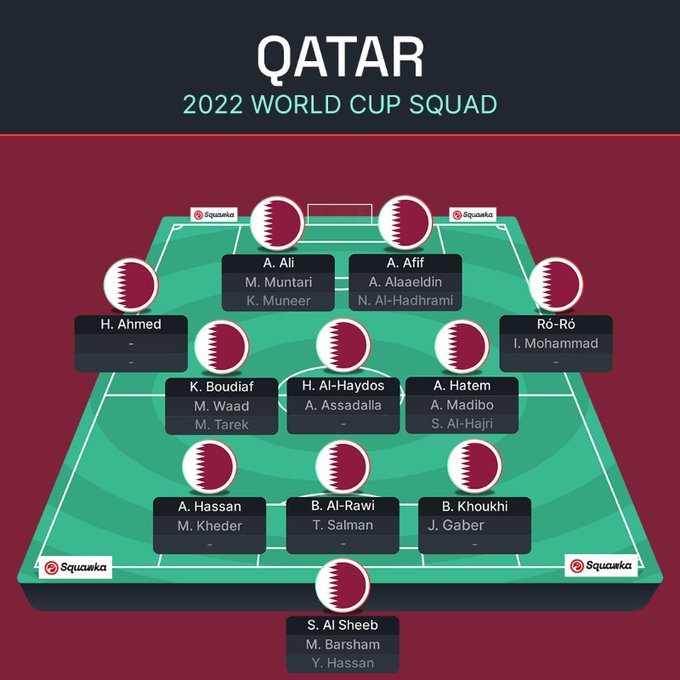 🇶🇦 Managed by 🇪🇸Felix Sanchez Bas since 2017.
🇶🇦 Most of the team have come through the Al Sadd ranks (managed previously by 🇪🇸Barca's Xavi).
🇶🇦 Strengths are attacking rather than defending.
🇶🇦 Tend to use a 4-3-3 or 3-5-2 formation.
🇶🇦 As hosts they've had a mixed set of friendlies as prep…gaining some decent results against the likes of Slovenia 🇸🇮& Chile 🇨🇱. They recently lost to an impressive Canada 🇨🇦 team.
🇶🇦 Saad Al-Sheeb ($4m) is very likely to be the goalie 🥅.
🇶🇦 Khoukhi ($3m) & Hassan ($3.5m) should be nailed in defence and are obviously extremely cheap. Al Rawi should make up the back 3️⃣ Ahmed ($3.5m) and Ro Ro should be the wingbacks. 
🇶🇦 Boudiaf ($4m) will be CDM with Hatem ($4.5m) and Al Haydos (c) ($4.5m) supporting the attack from midfield albeit the skipper is classified as a forward in Fantasy.
🇶🇦 Akram Afif ($4.5m) is a key 🔑 player for Qatar up front…he plays in the hole 🕳 and managed 10 assists at the 2019 Arab Cup & was involved in all 3 goals in the final of that tournament‼️
🇶🇦 Ali ($4.5m) is also front and was top scorer in both the 2019 AFC Asian Cup & the 2021 CONCACAF Gold Cup. He's the top scorer in the squad too with 39 goals. 
🖊 On Pens…Akram Afif ($4.5m) or Almoez Ali ($4.5m)
🎲 Odds to win the 🌎🏆 = 500/1
🚶Even without Sadio Mane (if he's not fit to play) I fancy 🇸🇳Senegal to qualify from this group alongside the Dutch 🌷
<Admin #Chindle13 >
Write to Chris Hindle